2018 Charity Golf Tournament Registration/Information Sheet Tournament June 18, 2018
To Register or for more information, please call 647-350-7343
http://thesiredmundhillaryfoundation.ca/wp-content/uploads/2018/02/GT-Registration-Sheet.jpg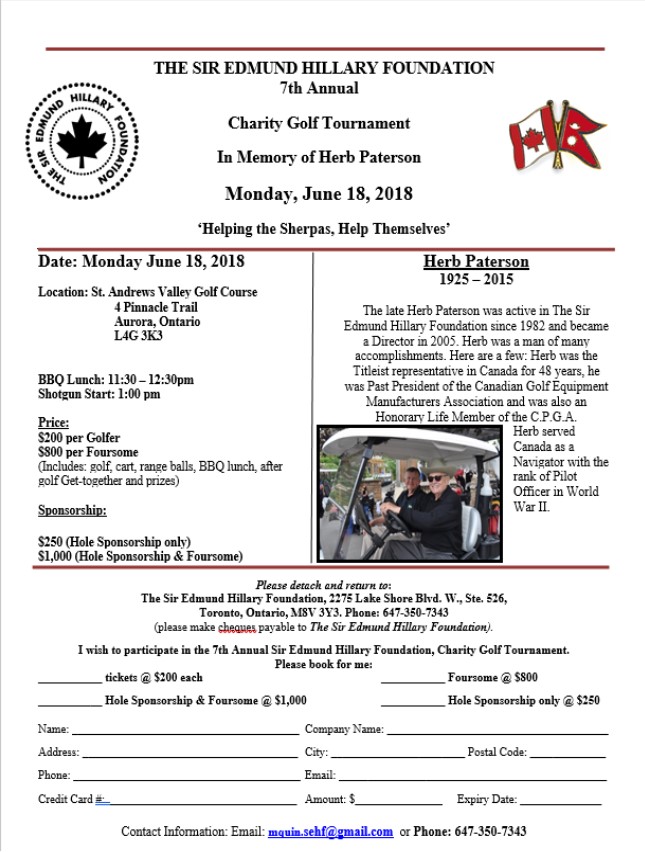 Invitation to play golf from Zeke O'Connor​
The Sir Edmund Hillary Foundation
7th Annual Charity Golf Tournament
In Memory of Herb Paterson
Monday June 18, 2018
Hello Everyone,
 It is that time of year when our thoughts turn to summer and playing golf!
 We are busy planning the 7th Annual SEHF Charity Golf Tournament in Memory of Herb Paterson. It will be held on Monday June 18th, once again at the St. Andrew's Valley Golf Course in Aurora. Space is limited.  Already we have received registrations, so we recommend that you send in your registration as soon as possible so that you will not be disappointed! Please consider taking a 'Hole Sponsorship' this year. See the attached Registration/Information Sheet for details.
 As in previous years, we promise that the 19th Hole Celebrations (which includes hors d'oeuvres and refreshments) will be short and enjoyable as trophies for the Longest Drives, Closest to the Pins, Winning Team as well as the 'Most Honest Team' are awarded.
 Simply print and complete the attached Registration Form and return it to us by mail  (please note our new address as we have moved) or email mquin.sehf@gmailcom as soon as possible. Or simply call Martine 647-350-7343 to register.
 We look forward to seeing you on June 18th!
 Namaste
Zeke